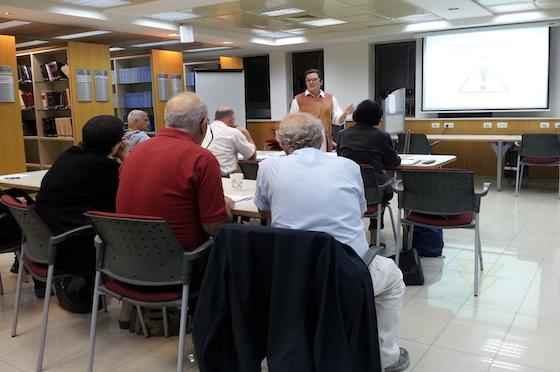 The issue of
mamzer
and how it affects the complexity of divorce
in Israel was the 
focus of CWJ's fourth seminar in a series for legal professionals held in partnership 
with the Jerusalem Bar Association. The seminar was conducted by CWJ founder and 
director, attorney Susan Weiss, on October 27, 2013. 
According to halacha, a mamzer is a child born to
a married woman as the result of a 
relationship with a man who is not her husband. A mamzer is only permitted to marry 
another mamzer or a convert, with the children of these marriages also stigmatized 
as mamzer. In order to carry out this restriction, the Israeli State-funded Rabbinate 
maintains a "mamzer blacklist."
"
Eye-opening
," is how one seminar participant described the content. Referring to the 
silent taboo on the subject, another attorney said, "This topic isn't taught anywhere 
else. It's important to understand what the State's policy is and its ramifications." 
The goal of CWJ's
Legal Education seminars
is to furnish legal tools and instruction in 
the strategy, developed by CWJ, of using civil damage suits to prevent get refusal. In 
addition, the training sessions include legal and halachic background relevant to the 
problem and its consequences. 
As CWJ works to find solutions to the agunah situation, we also address the roots of the 
problem, such as the issue of mamzer, which can become 
a bargaining chip in divorce cases. While a man can continue with his life, live with 
another woman and have children with her (children who won't be mamzers), the 
agunah is not able to continue her life and have a new family, due to the suspicion 
of mamzer status. One seminar participant summed it up this way, "It's true that the 
child is not to blame. And it's true that there should not be agunot. But this terrible 
mess cannot be ignored - there has to be a solution."
Israeli attorneys are gaining new knowledge and expertise that can help them 
better represent divorcing women thanks to the directed gifts of the Boston Jewish 
Community Women's Fund, David Berg Foundation, Greater Miami Jewish Federation 
Women's Amutot Initiative, Jewish Women's Foundation of New York, Inc., and the 
Tikkun Olam Women's Foundation of Greater Washington
, as well as those whose 
general support have provided a secure foundation to advance this project.