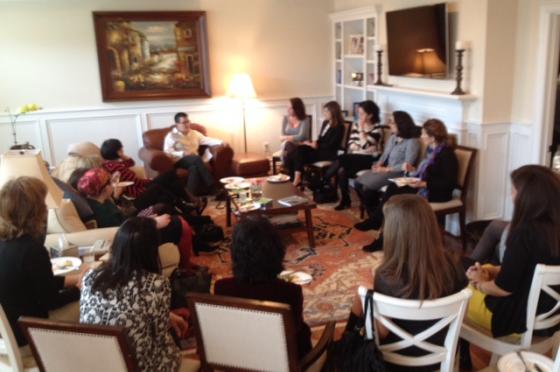 In a 20-stop U.S. tour this winter, CWJ director Dr. Susan Weiss spoke to Jewish women's organizations and communal groups, with the aim of raising awareness about the broad injustices that stem from the hegemony of the State-funded rabbinate in Israel.  Weiss stressed the need for changing the harmful status quo, in which Israel's civil court system is hard pressed to address religious court policies and practices that infringe on individual rights and freedoms, particularly those of women. 
The tour, sponsored by the Hadassah-Brandeis Institute and JOFA, the Jewish Orthodox Feminists Alliance, with support from numerous other organizations, introduced Weiss' book, Marriage and Divorce in the Jewish State: Israel's Civil War.  While the book focuses on the mistreatment of women by rabbinic courts in get abuse situations, Weiss emphasized to her audiences that the issue of get refusal is just the tip of the iceberg in the broad problem of human rights violations perpetrated by Israel's rabbinate.  As the religious establishment grows more forceful in its rigid interpretation of Jewish law, it is clear that the only way to achieve true gender equality and freedom in Israel is by diminishing the jurisdictional power of the rabbinate.
"During the three weeks of the tour, I was met with much positive energy and many thoughtful ideas around this issue," Weiss said. "This has given tremendous "chizuk" [encouragement] to our work, and forged the seeds of future alliances that could include a meaningful role for our American sisters in this struggle."
Organizations that hosted Weiss included the Jewish Women's Foundation of South Palm Beach County, NCJW, Greater Miami Jewish Federation's Women's Philanthropy and Women's Amutot Initiative, New Israel Fund, Jewish Women's Fund of the Greater Palm Beaches, Hadassah Foundation, Tikkun Olam Women's Foundation, Boston Jewish Community Women's Fund, Congregation Shaarei Tefillah of Newton, Ma., and the Louis D. Brandeis Law Society in Philadelphia, where Weiss led a continuing education workshop. Weiss also participated in two panels at the JOFA International Conference in New York.  In addition, she was a featured author at the New Author's Event at the American Jewish Studies Conference in Boston.