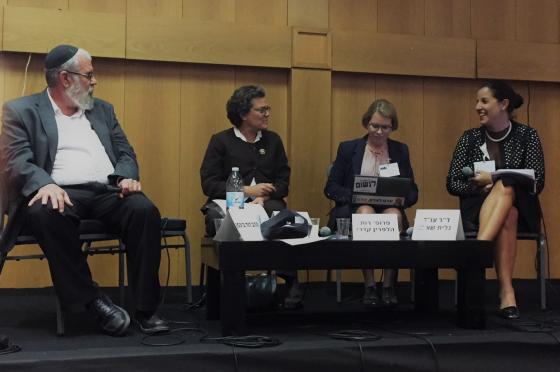 Shaping New Perspectives at the Tenth Kolech Conference
The leading voices of the religious feminist movement gathered Wednesday at the International Convention Center in Jerusalem as part of Kolech's tenth biennial conference, "To Be a Jewish Woman," under the banner "70 Faces of Orthodox Feminism." A diverse array of lawmakers, activists, heads of NGOs, educators, halakhic authorities and social change-makers came together to discuss today's most pressing issues encountered by women within the framework of religion in Israel.
The Center for Women's Justice featured prominently at the day-long conference, with three speakers presenting a number of eye-opening sessions, including a plenary session, a panel discussion and an educational dialogue circle. The conference also saw the official launch of CWJ's innovative new postnuptial agreement, the Pledge of Compassion and Dignity, which protects women in tragic instances of comatose or otherwise mentally incapacitated husbands. Conference goers were able to sign the agreement on the spot, some of whom even publicized their commitment on social media to magnify the communal impact of their decision. 
CWJ board member and Rabbinic pleader Rivkah Lubitch addressed the approximately 700-person crowd in a plenary session entitled "Unheard Voices and the Role of Orthodox Feminism." The audience was shaken as she shared powerful excerpts from her newly launched book, "From the End of the World and Beyond: The Long, Hard Road of Women's Suffering in Israeli Rabbinic Courts." She ended with a passionate plea to the greater religious community to confront the problem of mamzers, children of biblically forbidden unions who are labeled as social pariahs and are restricted from marrying "kosher" Jews: "They carry too much risk to speak out, so we must be their voices."
Dr. Susan Weiss, executive director of CWJ, offered her unique perspective as part of a panel discussing the viability of halakhic resolutions to modern get recalcitrance. Alongside Dr. Ruth Halperin-Keddari of the Rackman Center for the Advancement of Women at Bar Ilan and Rabbi David Bigman, member of the International Beit Din for the Resolution of Agunot. Susan's perspective was unique in taking a step back to examine the very premise upon which civil and religious legal systems are built. Understanding that the Rabbinic Court prioritizes adherence to systemic order, while civil courts aim for application of justice, is crucial when determining which legal tactics are relevant to each model. Participants also received copies of CWJ's prenuptial agreement for the prevention of get refusal, the Contract for a Just and Fair Marriage, which derives its effectiveness from a strong basis in both civil and religious law, and knowing which mechanisms apply to each system.     
CWJ attorney Nitzan Caspi Shilony led an educational dialogue circle to shed light on the differences between the many variants of halakhic prenuptial and postnuptial agreements available in Israel. In this question-and-answer session, participants gained an in-depth understanding of these agreements for the prevention of get refusal and how to best employ them. As a result of this informative session, one of the participating couples signed CWJ's postnup invited Nitzan to present a lecture to their community to encourage others to do the same.  Additionally, a representative of the Ne'emanei Torah Va'Avodah religious Zionist movement decided to include CWJ's new postnup in its programming for an upcoming mega-event jointly hosted by three synagogues in Modi'in.
By staying at the forefront of the ever-evolving conversation and actively pushing it forward, CWJ is pioneering new social and legal standards for the religious feminist community.
Support for these crucial outreach activities are made possible by generous support of the following foundations and donors: the Jewish Federation of St. Louis, Jewish Women's Fund of Atlanta, Jewish Women's Foundation of the Greater Palm Beaches, Jewish Women's Foundation of South Palm Beach County, and the Kathryn Ames Foundation, as well as donors whose general support provides a secure foundation for advancing our work.