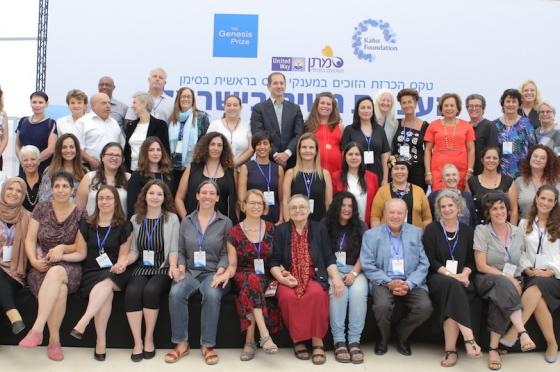 The Center for Women's Justice is honored and ecstatic to have been awarded the Genesis Prize!
Today, in a prestigious ceremony in Tel Aviv, the $1 million award--known as the "Jewish Nobel Prize"--was divided between a select number of Israel's leading women's organizations, including CWJ in recognition of our initiatives revolutionizing marriage and divorce in Israel.
Highlights of the ceremony: Media personality Lucy Aharish as the MC, the one and only US Supreme Court Justice Ruth Bader-Ginsburg appearing by video to congratulate our efforts, CEO of Matan United Way Israel Ahuva Yanai, Judicial Ombudswoman Tova Stasbourg-Cohen and other trailblazing women who are shaping the face of women's rights today.
Read about the event in Haaretz, the Jerusalem Post, Times of Israel. 
We are so grateful to the Genesis Prize Foundation, Matan United Way Israel and Morris Kahn Philanthropy for recognizing CWJ's contribution to women and investing in us to continue making Israel a better place for us all.
We can't think of a better way to start off the New Year! May we be blessed with a year of activism, growth and equality!