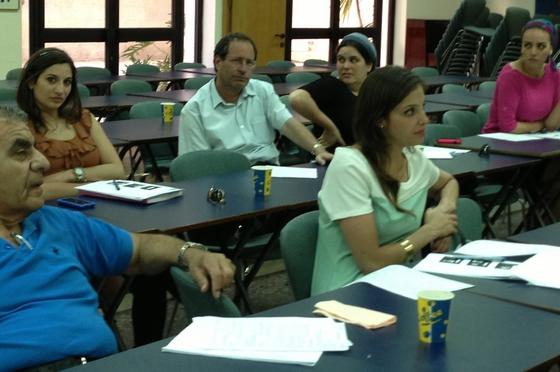 CWJ's Legal Education initiative disseminates its highly effective strategy of "damage claims for get refusal" to family law attorneys across Israel. This program offers skills-building seminars and webinars for practitioners, along with an Online Resource Center and consultative support.
Training seminars are carried out in partnership with the Israeli Bar Association and other organizations in different cities. These instructional forums give attorneys the practical knowledge needed to successfully represent their clients in get refusal cases.
On June 3, 2013, CWJ held its second seminar in Jerusalem, in collaboration with the Jerusalem Bar Association.  The session – CWJ's fourth this year – gave 25 participants concrete tools to respond to the rabbinic court threat of invalidating a get when a woman petitions for damages against a recalcitrant husband.
The general reaction of the participants was summed up by this attorney's comment:  "This seminar was really worthwhile and very useful for attorneys who deal with divorce cases. It helped me better understand the issues and halakhot (Jewish laws) that come into play and how to deal with them." 
CWJ thanks the Jewish Women's Foundation of South Palm Beach County and the Jewish Women's Foundation of New York, Inc. for their vision and essential role in launching and providing ongoing support for CWJ's Legal Education Seminar Series. They are joined by other committed supporters including the Boston Jewish Community Women's Fund, David Berg Foundation, Greater Miami Jewish Federation Women's Amutot Initiative, Stichting Levi Lassen and Tikkun Olam Women's Foundation of Greater Washington, as well as those whose general support have provided a secure foundation to advance this project.