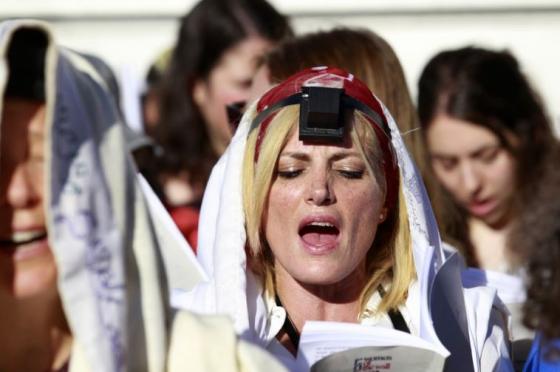 In November 2015, the Center for Women's Justice (CWJ) filed a petition with Israel's Supreme Court on behalf of four women who are members of the Original Women of the Wall (OWoW) group. The women have been barred from reading from a Torah scroll at the Western Wall by a Rabbinic state-backed directive. The Kotel Torah scrolls are available to men, but not to women. We asked the Court to declare the discriminatory directive void.  
"This case is critically important," says CWJ Director and lead attorney, Dr. Susan Weiss, "as it constitutes another instance of the rabbinate using state power to expand its theocratic arm beyond legal parameters, changing the status quo and violating women's civil rights."
According to media reports, CWJ's legal action may have spurred the state to finalize its recent agreement with the Reform and Conservative movements, the Jewish Agency and other bodies regarding use of Robinson's Arch for prayer services. The state claims that the Robinson's Arch arrangement provides a solution for the OWoW request, but does not explain how.
While CWJ welcomes any arrangement that recognizes the pluralistic streams of Judaism, we object to an arrangement that does not recognize the rights of women to don prayer shawls and tefillin, and read aloud from the Torah as a group in the women's section of the Kotel.  
On March 14, 2016, the Supreme Court issued a decision in this case demanding that the defendants – the Kotel administrator, the Religious Affairs Ministry and the Prime Minister's Office – clarify how the Robinson's Arch prayer space addresses OwoW's demand. Read more in this Jerusalem Post account: "Court: Gov't needs to explain why women can't read Torah at Western Wall."
"The state cannot compromise in its protection of the human rights of all its citizens just to solve coalition and political problems," emphasizes Dr. Weiss. "In a democratic state, there are things that are not negotiable."
CWJ has also filed a petition in magistrate's courton behalf of OWoW,suingthe State for$50,000 in damages to compensate our clients for its discriminatory practices.
The generosity of the David Berg Foundation, JWF of Metropolitan Chicago, and JWF of the Greater Palm Beaches, UJA of Greenwich and others whose critical general support is making this litigation possible, is helping CWJ chip away at the Supreme Court's reluctance to challenge the rabbinic establishment on agunah rights and all other issues relating to policies that are prejudicial towards women.